Mizon Twilight Volume Cream review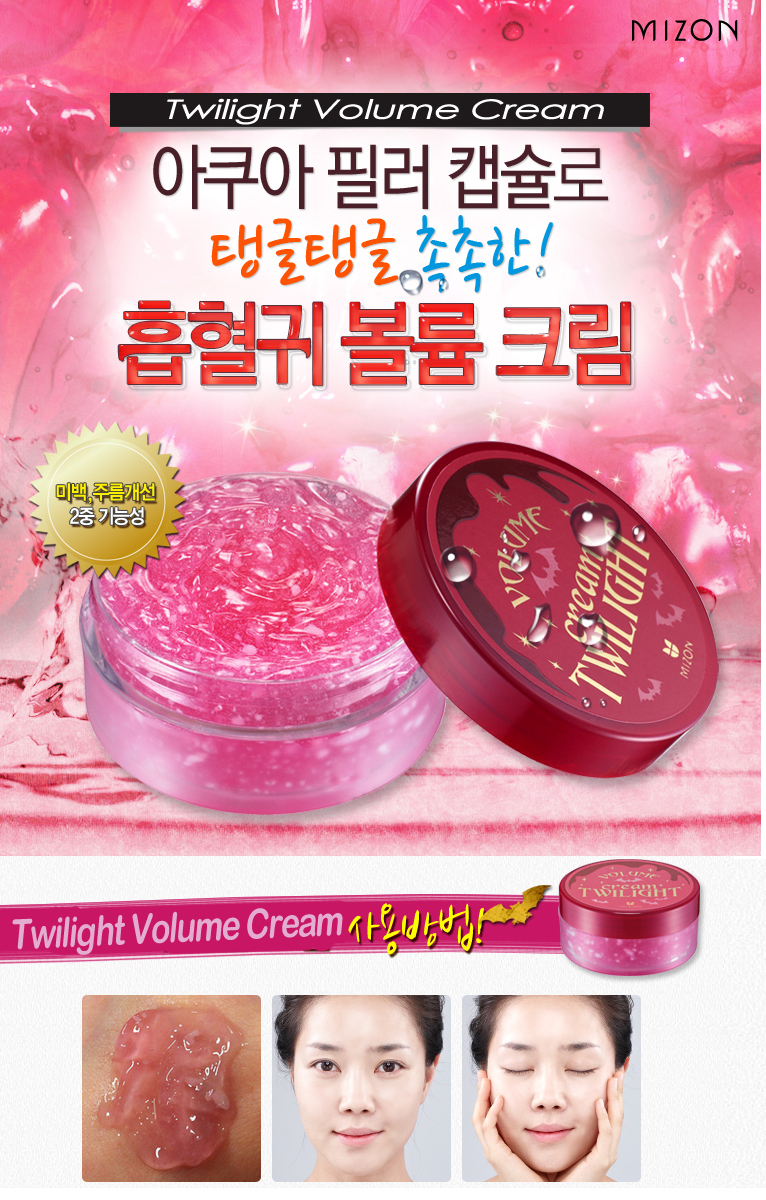 Mizon Twilight Volume Cream (50ml)
Cream inside box and English instructions and ingredients
Resilient and moisturizing volume cream with aqua filler capsule.
Oil capsule offers radiance and moisture protection veil to skin. Argo white extract that is grown in Brittany in France helps turning over of skin and creates bright and transparent skin. Contains dragon blood extract from dragon tree with excellent self-repair effect.
Surfactant, artificial fragrance, benzophenone, phenoxy ethanol, mineral oil, animality, GMO, silicon free.
How to use: At the last stage of skin care, apply a moderate amount according to skin texture gently.
Comes with a spatula. Possible ingredients: Vampire Blood essence and fang bits
I'm not gonna lie, I bought this because of the packaging and my ultimate goal of having the skin of a vampire!
I mean who doesn't want to have the vampire skin?
Also it contains dragon blood extract, who can say no to dragon blood extract?
Either way I was willing to give it a try.
This is the second Twilight cream Mizon released, I really want to try the first edition Mizon Twilight Return cream, since I think it is actually better suited for my skin type but I can't find it anywhere!
This is a jelly like gel cream, it has little white cream bits in it which I think are suppose to supply extra moisture or possibly vampire powers.
I can't be sure of it.
so bouncy!
Let's hope it's vampire powers!
It is super duper watery when applied, and feels very wet in a good way.
Not like water wet but like hydration wet.
On that note this gel is very hydrating!
It smells citrusy fresh and if you get really close to it you can smell the menthol too, the smell is not very strong and dissipates quickly after application
Left; a little spread right; rubbed in
I started using it when it was still cold and my skin was dry (no sebum) and dehydrated (no moisture) this product unfortunately didn't do it for me then, even after using a hydrating toner and emulsion underneath.
To be honest I haven't really found a cream that provides enough moisture for my skin, and this one isn't even targeted at dry skin, so let's not blame it.
Also I need to note the toner and emulsion I used weren't very good nor hydrating so let's blame them.
When I started using a toner and emulsion that did give me enough moisture so my sebumless face didn't itch anymore ( yeyyyy it was only itching for 3 months straight), yes review of those miracle products coming soon, I suddenly noticed how marvelous this cream is!
My face was still dehydrated from the dry air but not scaly any more from the wonder emulsion.
So when I applied the Twilight cream my face felt quite divine with that watery hydration explosion going onto my face.
I have tried the toner and emulsion in conjunction with a different moisturizer and didn't like the effect as much. I am now using the Twilight cream without the above mentioned miracle products but I still love it.
The weather is warmer and there is finally moisture in the air.
I didn't see any whitening effects of this cream even though Niacinamide is fourth on the ingredients list, but my PIH got better (can't confirm if it was this cream or other products) and I did tan on accident.
But I did read that Niacinamide lightens very slowly and I am a little more than half way through the pot after using it for most of the last 2 months.
All in all i really like this cream!
It feels great on my face and since it is so hydrating and lightweight at the same time, I think it would suit any skin type.
If you have really dry skin you would need to use something else in conjunction during the wintertime but for summer this cream is perfect!
Now let's see if I turn into a Vampire by the time I finish the pot!
Ingredients:
here
PH: 6.5
Rating: 1.Blegh 2. Pff 3. Meh 4. Oohh
5. Awwyeah
6. Wooha
Purchased at Roseroseshop (seems to be sold out)
Available on
Ebay