Holika Holika Apple Shine Turn-Over Sleeping Cream review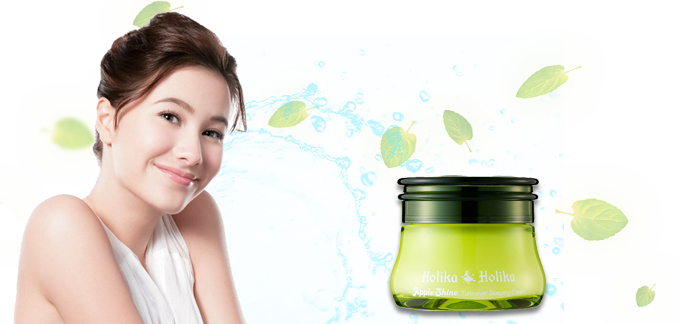 Holika Holika Apple Shine Turn-Over Sleeping Cream (50ml)

Holika Holika Apple Shine Turn-Over Sleeping Cream absorbs immediately into skin with a cool tingling sensation. It provides enriched hydration and smoothes rough and dry skin by removing dead skin cells. This water drop type sleeping cream offers moist and luminous skin after each use for a softer complexion. Contains hyaluronic acid, organic fruits and grains, and rich nutrients.

How to use: After cleansing and applying toner. Apply all over face before bed. Rinse off in morning.
I love the Witch logo!
This is one of the products that was lend to me by my dear friend, thank you friend!
She really likes this so I thought I would give it a try too.
You may or may not know that I am completely obsessed with sleeping packs and use them everyday. I am currently on the hunt for the perfect sleeping pack and even though this is not amazing it is pretty good indeed.
Sleeping packs are moisturizers that are meant to be used as your last skin care step at night.
They give you an extra dose of hydration and form a thin film on your face to pamper it while you sleep.
This is a very smooth and fresh sleeping pack.
It smells like soapy cream and green apples but it dissipates fast once applied to your skin.
It feels cool on your skin and sinks in fast. It makes my face feel fresh moist and plump for a while but alas it doesn't last until the next morning!
It is suppose to be a water drop pack, which means that once applied it should form little droplets on your skin.
It doesn't do that but since I believe that is not only sort of unnecessary and a gimmick I am completely fine with that.
It looks white in the jar but it is almost see through
It also says it eliminates dead skin cells, but it's PH is a little too high to work as a proper exfoliant. Once again I do have appropriate products for that so I don't expect it from this pack either.
It is a nice sleeping pack that i find makes me skin feel and look good.
But since I apparently need some kind of magic potion for my face to be moisturized for 8-12 hours I am not really sure if I will ever find a sleeping pack that I find 100% satisfactory.
Due to its lightweight texture and good hydrating qualities I think that this might be suited for any skin type.
Ph: 6
Ingredients: Couldn't find them please let me know if you do.
Rating:
1.Blegh 2. Pff 3. Meh

4. Oohh

5. Awwyeah 6. Wooha
Available at
Koreanqueens
Available in
Koreadepart