Missha Super Aqua Oxygen Micro Visible Deep Cleanser review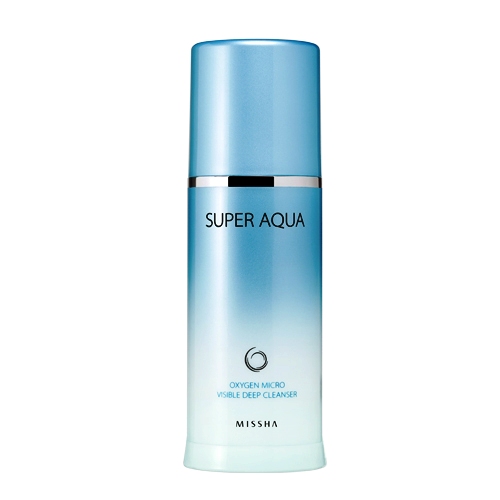 Missha Super Aqua Oxygen Micro Visible Deep Cleanser
This Super Aqua Cleanser gives you a deep cleansing and a massaging effect.
Its O2 Carrier Complex energizes and moisturizes your skin.
The mild cleanser contains Swiss Alpine Herb Extract, which protects and relieves skin.
The Oxygen bubbles clean and help remove makeup.
Apply appropriate amount onto dry face.
Gently massage face in a circular motion.
Rinse off with lukewarm water.
As you may or may not know I hate being moist, and since I have dry skin I have decided for myself to forgo the foam cleanser and find other alternatives to be shiny and clean.
But since Johnny Clyde loves the wet bubble goodness I always have a variety of foam cleansers at hand.
When The Face shop Herb Day Cleansing foam (reviewed
here
) finally came to an end I decided to empty all my foam samples to compare them all.
Of course I tried all of the cleansers I gave him just to make sure he wouldn't make anything up for his reviews (which he hasn't done yet!) but was pretty unimpressed with them all.
Until...
I tried Misshas Oxygen Micro cleanser!
Seriously, I really like this cleanser and that is saying something since using it implies getting moist!
Why do I like it so much?
Because it is weird, that's why!
It smells very good, it has a subtle sweet slightly fruity scent that is super pleasant.
And the cleansers texture is strange indeed!
It is see through and almost a watery gel, which is something I really didn't expect at all.
Gel straight out of the tube and mixed with a little water
Since I don't own a full size of this cleanser I didn't know how to use it so for the first few times we used this on a wet face with a Konjac sponge.
It doesn't actually foam up as well as other cleansers but it definitely works if used as such.
The instructions say to apply this on a dry face and let it bubble up for a few minutes.
This does indeed work fabulously!
I gathered some of the foam that formed on a spoon to show how much it really foams up
I rather like the feeling even though it can tickle a bit!
I find that watching it makes it easier, but it really isn't that bad at all.
Johnny Clyde was freaking out screaming "I have pop rocks on my face, ahhhh!".
He is rather unique!
The foam claims to deep cleanse pores and also eliminate make up completely.
It does seem to actually clean out my pores well.
When used they are practically invisible for a few hours even though they seem to become more obvious by the end of the day.
I also used this cleanser as my sole step of cleansing after wearing make up and the cotton pad came out clean!
I am impressed!
Spotless!
And now the best news!
The PH of this cleanser is very satisfactory!
Huzzah!
It doesn't make my skin dry either which is very important for me.
Since it does take a little while to get the bubbles popping (around 1-2 minutes) I think that I will continue using this cleanser 2 to 3 times a week while Johnny Clyde will use it in a regular manner.
So I definitely think this is a success story since I for mw cleansers are one of the dullest skin care products there is.
But using this makes the experience fun!
Ph: Starts out as 5.5 when applied and becomes a 4.5 after it bubbled
Ingredients:
Here
Rating:
1.Blegh 2. Pff 3. Meh
4. Oohh
5. Awwyeah
6. Wooha
Available on
Ebay
On a side note,
Sample Hime mentioned
to me that when she purchased the full size a few years ago it didn't bubble up as well as the sample sachets.
I don't know if that is still the case since I only used the samples of this product.
If you own the full size I would love to hear your input on this though!
As a little extra here is a video of Johnny Clyde using the cleanser.
Warning annoying washing machine sound in the background!