Etude House Happy Teatime Milk Tea Cleansing Cream review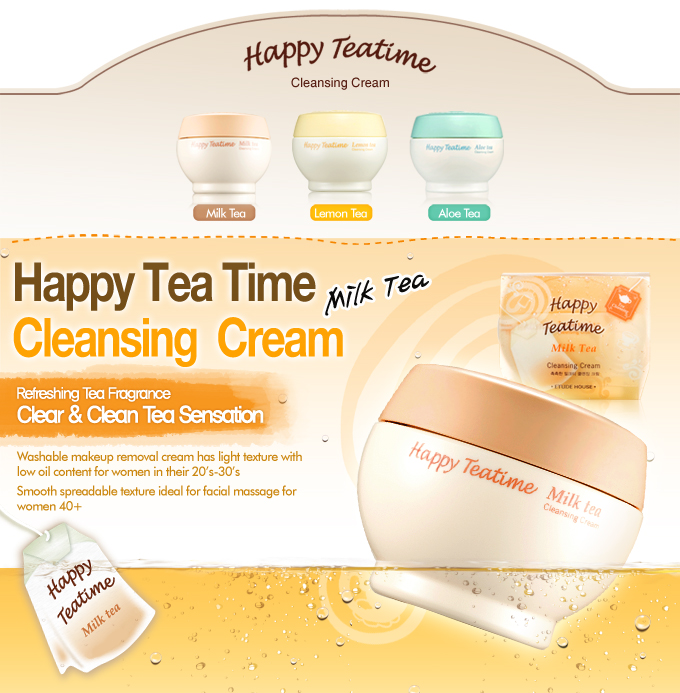 Etude House Happy Teatime Milk Tea Cleansing Cream (180ml)
"This Etude House Happy Teatime Milk Tea Cleansing Cream is formulated with Milk Protein to remove dirt and makeup while keeping skin moisturized with the pleasant fragrance of tea.
How to use: Apply cream to all areas of the face. Massage thoroughly and wipe clean with cleansing tissues or rinse with warm water to remove excess."
Comes in a plastic box as shown in the promotional photos, writing came off since I have been using this for 8 months
Since I have super dry skin and a slight water phobia, I very much like the idea of cleansing creams.
When I did my online research on cleansing creams I couldn't really find a contender that convinced me 100% since they don't seem to be too popular.
So why did I buy this one?
I confess, the name is cute and so is the jar!
Contents of the jar about 3 months into usage, no spatula included
Well, honestly this cleansing cream isn't the bees knees but it isn't bad either.
It cleanses my face without any magical side effects.
Positive or negative.
But I guess if I'm trying to find a cleanser that also makes my hair turn different colors each time I use it, I would search forever.
I hardly ever wear make up so I didn't buy it for the removing powers, but I think it definitely removes it well when I wear some.
It doesn't sting my eyes when I use it to remove my mascara and manages to take it off easily even though it is waterproof.
Unlike Bioderma which simply looks at my mascara and decides that it won't even bother removing it from my lashes at all.
Missha perfect cover BB cream, Stila waterproof liquid eye liner, Essence black eye pencil, Maybelline Waterproof mascara, Tonymoly Lover kiss lip tint, Mac eyeshadow
You can't tell by the photo alone but I applied a super duper thick layer of mascara by accident.
It would probably be about 5 or 6 layers on my lashes.
I never use more then 2 so this cream cleanses my mascara well.
I only use one layer of cleansing cream on my face but since that is how I swatched it I added another layer of cream in the photos to see if it would clean the left over mascara.
Which it indeed did.
My hand after being wiped off with a cotton pad after the second cleansing, and a cotton pad with toner to check how well the cream cleansed
It also doesn't aggravate my eczema and when I don't have any it doesn't make it come back either.
The Texture is smooth and creamy which makes the massaging easy, but when I wipe it off the cleanser does not leave my skin specifically soft.
Creamy cream
But in my case neither do most moisturizers.
I take it off with a cotton pad and then use a cleansing water afterwards.
So it is not necessary to wash this cream off with water.
It neither provides nor strips my skin of moisture, so that is definitely a plus.
But if your skin isn't as dry as mine, this might be a nice and hydrating cleansing process.
It doesn't smell like Milk Tea to me, more like a Powdery vintagey scent.
I am quite sensitive to scents (ha!) and this one isn't super strong and doesn't linger at all.
I have been using it once a day for 8 months now and still have a quarter of the jar left.
It is definitely cheap and lasts for a long time!
It is a solid product, but I believe there is probably nicer cleansing creams waiting to be tried in the world.
Ph: 5
Ingredients:
Here
Rating:
1.Blegh 2. Pff 3. Meh

4. Oohh

5. Awwyeah 6. Wooha
Purchased on
Ebay
Available at
Koreadepart