Which movie am I gonna watch tonight?
Frankenstein vs Frankenstein vs Frankenstein
I have recently finished Mary Shelleys 1818 version of Frankenstein, and I thought I should brush up on some of the film versions of the novel
Frankenstein
1931
directed by James Whale
starring: Colin Clive, Mae Clarke, John Boles, Boris Karloff
First of 1930s Frankenstein is an absolute cult classic by now. I had quite high expectations but to be honest it is a little bit of a disaster.
The good:
Amazing sets, backdrops, make up, special effects and costumes.
The intro
Boris Karloff
The fire ending
The bad: It had hardly anything to do with the novel and still this is what most people think the novel is about.
That wouldn't be so terrible if there was a coherent story line here.
But the movie really makes no sense. There is no story or character development besides the 5 minutes of character development Frankensteins monster gets in the middle.
And they are so many things that make absolutely no sense in this film that are too much to write.
This being said I still quite enjoyed the film! It is a little campy and over the top, but what do you expect from a 30s monster movie? It is definitely a must watch for all classic movie lovers and monster affictionados.
Mary Shelley's Frankenstein
1994
directed by Kenneth Branagh
starring: Robert De Niro, Kenneth Branagh, Tom Hulce, Helena Bonham Carter, Ian Holm, John Cleese, Aidan Quinn
I remember having watched this film when I was about 11 years old and totally falling in love with Helena Bonham Carter!
I have been a big fan since
This film is quite close to the novel.
Actually probably as close as films get to novels most of the times. I haven't read any other versions of Shelleys book so the parts that differed for me might have been based on one of the later revisions.
The parts they did change absolutely improves the films narrative.
The sets and costumes are incredible!
The film in general is very beautiful!
There are some random parts that are a little campy, but hey why not...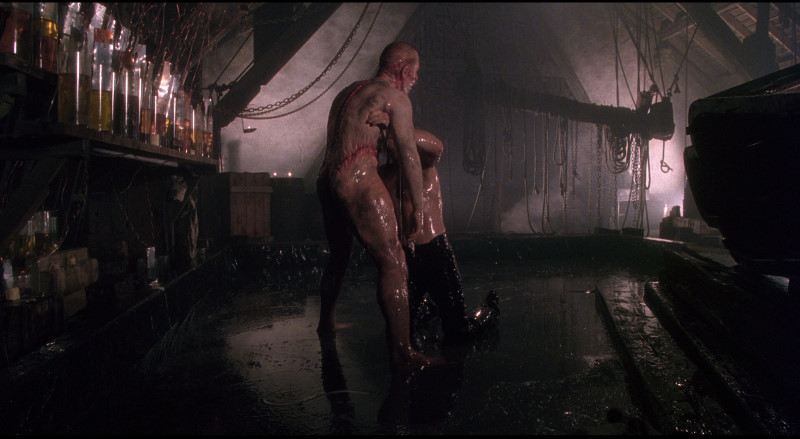 Probably the best scene!
I am very surprised why this film isn't popular specially considering the cast.
I really liked this and recommend it to anyone
I , Frankenstein
2014
directed by Stuart Beatti
starring: Aaron Eckhart,
Bill Nighy
,
Yvonne Strahovski
,
Miranda Otto
,
Jai Courtney,
Kevin Grevioux
Well this is a tough one!
I'm gonna start out by saying that the first 5 minutes of the film are true to the book. And that this film is kind of like a sequel.
Then it started to get crazy, I still had hopes for it and kept saying it could still be a cool movie!
No, I was wrong!
This is kind of a hot mess!
There is so many movie mistakes here, I don't know where to start.
If you are interested in watching a modern "adaptation" of the Frankenstein universe and destroy anything you thought off Aron Eckhard before, while watching 90 minutes of non sense, then go ahead.
Judge for yourself